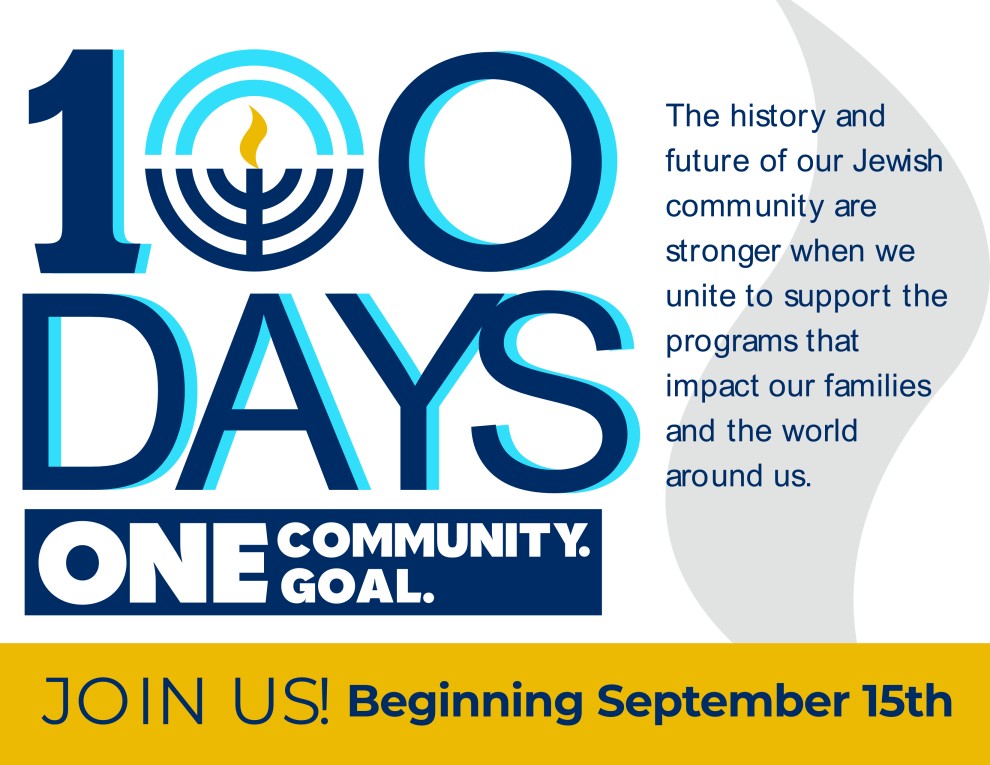 One Community. One Goal. 100 Days
Join JFSA as we kick off our 100 Day Campaign! See below for the schedule of events and be sure to purchase your tickets for brunch and RSVP for Mini Yom Limmud break-outs by clicking HERE.
9:30-Noon- Super Sunday Phonathon
Help us make the calls that enable the Jewish Federation of San Antonio to fulfill our mission of "Strengthening Jewish communities, here, everywhere, always."
12:30-1:45- Brunch and Honor Ceremony ($10 per person)
Be a part of the "One Community," as we break bread together.
2-3- Mini Yom Limmud (Day of Study) Break-Outs
Join us as we bring back an old San Antonio tradition with Yom Limmud. Pick a topic that interests you and join the group to participate.
Teshuvah from Fear vs. Teshuvah from Love…Does our state of heart and mind affect the outcome of our teshuvah?

 – 

Rabbi Mara Nathan, Temple Beth-El

By studying the rabbinic understanding of teshuvah, we will reflect on the intersection between our religious obligations and our modern lives. How can the process of Teshuvah strengthen our relationships with those we love and with the Holy One as we prepare for the High Holy Days?

Repentance and Forgiveness in the Shtisel Family – Rabbi David Komerofksy, Temple Chai

The hit Israeli TV show "Shtisel" is a vivid portrayal of an observant Jewish family in Jerusalem. Layers of depth and meaning are to be found beneath the stereotypical surface of the characters, and we will explore the theme of teshuvah that is at the heart of the family's relationships.

The Origin and Impact of the Shofar – Rabbi Jeffrey Abraham, Agudas Achim

Have you ever wondered why we sound the shofar as a wakeup call for us on High Holidays? Learn about the origins of the shofar and why it's not completely clear as to why this was chosen as the symbol for our High Holidays.

King David and the Power of the Psalms

 –

 Rabbi Chaim Block, Chabad

Journey into the life and trials of one of the most enigmatic figures in Jewish history. Discover why our people have turned to the Psalms for solace and strength throughout the ages.

Community Memory and Personal Preservation

 – 

Amber Garcia & Julie Tzucker, HMMSA staff

The Jewish community has a strong legacy of oral and written tradition that dates back thousands of years. In our own community, the Holocaust Memorial Museum works daily to create a new chapter of memory for San Antonians, both Jewish and non-Jewish. Join Museum staff to learn more about community memory and the ways in which you can keep your legacy thriving.
The Power of One

 - 

Rabbi Aryeh Scheinberg, Rodfei Sholom

Explore and discuss how the concept of "oneness" appears in Jewish liturgy and thought.

A Multicultural Conversation About Women in Israel - Janan Faraj Falah, PhD & Marcy Paul, PhD (Partnership Western Galilee Representatives)

Join our Western Galilee ambassadors in a dynamic conversation about women and status in Israel. Jana Faraj Falah, the first Druze woman in Israel to receive a PhD, is a senior lecturer at the Arab Academic College of Education in Haifa and a researcher at the University of Haifa. Marcy Paul received her PhD in Multicultural Women's and Gender Studies from Texas Women's University, her MA in Communication from the University of Illinois at Chicago, and her BA from the University of Wisconsin - Madison in Communication Arts. She has a tenure at UNTHSC since 2011. She currently serves as co-chair of the academic committee for Partnership2Gether, the Jewish Agency's peoplehood platform, connecting 15 communities in the U.S. and Budapest, Hungary with the Western Galilee in Israel.

Teen Discussion 1:Jews & Comic Books - Hillel Representatives

A look at modern comic books such as Superman, Batman, Spiderman, and Captain America and how they relate to Jewish culture and history. We will explore comic book characters and themes to learn how their portrayals have changed over time and how American Jews influenced this art form.

Teen Discussion 2: Jewish Leadership: New & Improv'd - Hillel Representatives

A Jewish perspective on leadership guiding teens to transition into leaders of their community. This session will be using the technique of applied improvisation (improv) as the core tool to work and fine tune leadership skills.
All Day- Kids Klub
Need help with your children as you participate in all the 100 Day Kick-Off has to offer? Please let us know so we can help!
If you will need child care, CLICK HERE & select one ticket for Kids Klub for each child, in addition to your brunch tickets and Yom Limmud RSVP's, on that ticket, please enter the child's name, age, and the time that child care is needed.
Questions about the 100 Days Campaign Kick Off? Contact Jill Jacobs-Aguirre, Senior Director of Development at jacobsj@jfsatx.org